Telefocal Certified Submarine Cable System Expert (TC-SCSE)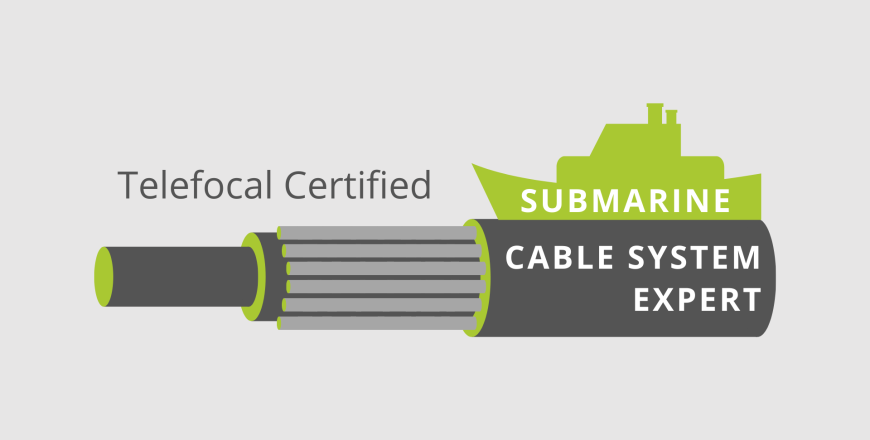 This course provides basic to in-depth understanding of the submarine cable networks. Starting from the basic optical communication to deployment of submarine cable covering the engineering aspects of network design for dry plant, wet plant, Cable Landing station, strategic planning (financial and physical) to enter in Submarine cable business through consortium/PPP or private cable owner.
Step-by-step cable project activities like proposal, financial viability, route planning, agreements for construction of cable, permits and Licenses cable laying, agreement for wet plant maintenance in different marine zones will be covered. Thorough understanding will be shared to utilize the submarine cable bandwidth (share of MAU/MIU) in different commercial products like IP transit, Peering, IPLC, DWA etc. as a telco business entity. Underlying technologies over optical network like SDH, OTN, DWDM and carrier ethernet will be discussed to forge the ideas of product development.
This course is designed for engineers, top level managers (who are make decisions for SMC business), mid-level managers (who are to execute the project and attend the stakeholders meeting during different phases of project), managers and team members who to own and maintain the network after project completion.
Instructor-Led Training
[Classroom: 5 days / LIVE Virtual*: 35 hours]
*Note:
A minimum of 6 or more participants are required for a company-based LIVE Virtual course to commence
LIVE Virtual courses can be conducted for 5 hours or 7 hours daily. Please note that the number of training days will be extended if you opt for 5 hours daily.
13 – 17 Feb 2023 (Mon – Fri), GMT +08:00
17 – 21 Apr 2023 (Mon – Fri), GMT +08:00
If you are keen on attending the above scheduled course, please register your interest via our course enquiry form.
At the end of this course, participants will be able to understand:
Bandwidth consumption trend and need for more capacity in future
Optical communications, its limitations, and advantages
Why to choose submarine cable compared to other options
Different financing models of SMC and which one to opt
MIU/MAU and IRU purchasing, selling and consumption over SMC
The components of SMC network like dry plant and wet plant
Functionality of SLTE, PFE, C-OTDR, Branching Unit, Repeaters, Gain equalizer
Decide what type of submarine cables at different depths and environments
Understand how the SMC is laid, fault traced, repaired and what tools are used
How the wet plant is powered and why on single conductor
Significance of Beach Manhole and its earthing/grounding
Activities in route survey
Consortium structure and your participation
Committees and meetings in case of consortium cable and best practices
Owning and maintaining submarine system
Optical systems on SMC and possible commercial products
Product development on IP Transit, Peering, IPLC, IEPLC, (Full circuit and Half circuit), Interlinking, Direct wavelength access on SDH, OTN, DWDM and carrier Ethernet
Introduction
Submarine Cables: Importance, Amazing Facts, History, Capacity, Ownership Models, Global Footprint
International Bandwidth/Internet Trends
Comparison of Medium for International Communications: Microwave, Satellite, Optical Fiber
World Market Analysis and Outlook for Submarine Cables
Ultimate Capacity and Lit Capacity and Upgradation
Commercial and Financial Structure of SMC
Funding Requirements (CAPEX and OPEX)
Stakeholders' Management (Financers, Strategic and Landing Partners)
Ownership Models with Pros and Cons (Private Cables, Consortium Cable and PPP)
MAU/MIU Calculation, Costing and Utilization for Consortium Cables
IRU-Indefeasible Right to Use and Contractual Status
Basics of Optical Communications
Optical Fiber: Structure, Types, Standards, Limiting Factors of Attenuation, Dispersion, NL Impairments
Sources and Detectors: Lasers, LED, PiN and APD
Design Practice for Fiber Optical Communication Link within Standards
Optical Cable Technology, Cable Types and Fiber Splicing
Submarine Cable (SMC) Network
Unique Differences of Submarine Network from Terrestrial Networks
Components of SMC Networks (Dry Plant and Wet Plant)
Dry Plant (SLTE, PFE, C-OTDR, Supervisory Equipment and Cable Termination)
Wet Plant (SM Cable, Repeater, Branching Unit, Gain Equalizer)
Joints (UJ, UC, UQJ)
Transoceanic and Coastal Networks
Repeatered and Repeaterless System
Network Architecture (P2P, Festoon, Ring, Trunk and Branch, OADM, Hybrid)
Cable Landing Station (Site Selection, Space and Construction Standards)
Beach Manhole
Connecting Terrestrial Network to SMC Network (PoP2PoP Connectivity, Traditional Model, Flexible Models, Open SLTE, Open CLS, Open Cable)
Power Feeding Plan to Power Wet Plant
Fault Detection, OTDR/COTDR, Electroding for Cable Search and Cable Repair Process
Selection of Fiber for SMC (LEAF, VASCADE, etc.)
Selection of Appropriate SM Cable (No. of Fibers, Water Depth and Pressure, Location, Weather and Environment)
Power Budget and Repeater Placement Distance (80 Km to 40 Km)
Dispersion Compensation and OSNR
Marine Activity
Sw Laws Governing to Territorial Sea, EEZ and High Sea for SMC
Marine Maintenance Zones
Laying of SMC (Laying Ship, Sea Plow, ROV, Grapnels) 
A to Z of Submarine Cable Project
Phase 1 – Planning
Investment Business Model
Market Demand
Risk Analysis
Ownership Model
Partnerships
Network Configuration
Financial Plans
Project Timelines
Phase 2 – Developing
Construction and Maintenance Agreements
Landing Party Agreements
Competitive Procurement
RFQ Development
Bid Receipt
Adjudication
Selection and Award
Desk Top Study
Permitting
Final Route Selection
Cable and Equipment Selection
Procurement
Responsibility Matrix
Phase 3 – Construction
Installation
Payments
Stakeholders Consultation
Wet Maintenance Agreements
Combating Delays and Risks
Cable Laying and Termination
SMC Systems and Products
SDH
WDM/CWDM/DWDM
OTN
Carrier Ethernet
IPLC (full circuit, Half Circuit)
IEPLC
DWA (Direct Wavelength Access)
IP Transit
Peering
IRU product and viability
SLA and QoS (Loss and Delays Measurement
 Certification: At the end of the course, participants will sit through a written examination. A professional certificate will only be issued upon:
Scoring 75% or higher in the written exam AND

Achieving at least 75% attendance for the course.
The participant should have the background of Telco business and knowledge on optical networks will be preferred.