Telefocal Certified Submarine Cable System Expert (TC-SCSE)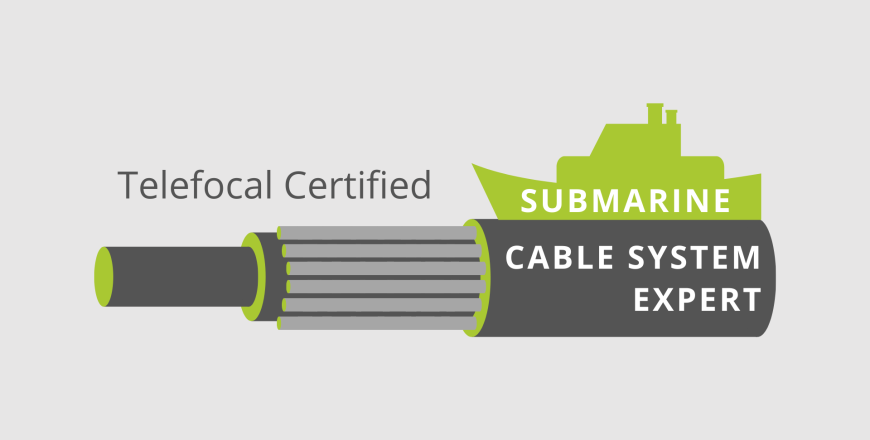 In this 5-day certification course, participants will gain a comprehensive understanding of submarine cable system networks from both technical and commercial perspectives. The course covers key topics such as basic optical communications technologies, the deployment of submarine cable, and the engineering aspects of network design for dry plant, wet plant, cable landing station, as well as strategic planning (financial and physical). It will also cover advanced-level topics such as how submarine cable businesses are managed through consortium/Private-Public Partnerships (PPP) or private cable operators to provide reliable and high-speed communication networks.
Participants will be guided through the different stages of submarine cable project activities which include proposal development, financial viability assessment, route planning, cable construction agreements, permits and licenses for cable laying, agreements for wet plant maintenance in different marine zones.
Using a telco business as an example, the course will also provide insights into the utilization of the submarine cable bandwidth (share of MAU/MIU) through different commercial products like IP transit, peering, IPLC, DWA, et cetera. To forge product development ideas, the course will also impart key concepts on the underlying technologies over optical networks such as SDH, OTN, DWDM and carrier ethernet.
Engineers
Top level managers (who make decisions for SMC businesses)
Mid-level managers (who execute SMC projects and attend the stakeholders meeting during different phases of project)
Managers and team members (who own and maintain the network after project completion)
Instructor-led Training
Classroom: 5 days
LIVE Virtual*: 35 hours
*Note:
A minimum of 6 or more participants are required for a company-based LIVE Virtual course to commence
LIVE Virtual courses can be conducted for 5 hours or 7 hours daily. Please note that the number of training days will be extended if you opt for 5 hours daily.
15 – 19 Jan 2024 (Mon – Fri), GMT +08:00
If you are keen on attending this course, please register your interest via our course enquiry form.
At the end of this course, participants will be able to:
Understand the bandwidth consumption trend and the need for more capacity in future
Identify the limitations and advantages of optical communications
Explain the reasons for choosing submarine cable over other options
Analyze different financing models of SMC and select the appropriate one
Understand the concepts of MIU/MAU and IRU purchasing, selling and consumption over SMC
Describe the components of SMC network like dry plant and wet plant
Explain the functionality of SLTE, PFE, C-OTDR, Branching Unit, Repeaters, Gain equalizer
Decide what type of submarine cables to use at different depths and environments
Understand how the SMC is laid, fault traced, repaired and what tools are used
Understand how the wet plant is powered and why on single conductor
Explain the significance of Beach Manhole and its earthing/grounding
Understand the activities involved in route survey
Explain the consortium structure and one's participation in it
Identify the committees and meetings in case of consortium cable and best practices
Understand the process of owning and maintaining a submarine system
Explain the different optical systems on SMC and possible commercial products
Identify the product development strategies for IP Transit, Peering, IPLC, IEPLC, (Full circuit and Half circuit), Interlinking, Direct wavelength access on SDH, OTN, DWDM and carrier Ethernet
Fundamentals of Submarine Cable Systems
Dry Plant
Wet Plant
Designing and Planning
Laying of Cables
Cable Landing Station (CLS)
CLS Equipment: DWDM, SDH and Ethernet
Licensing
Commercial and Financial Structure of Submarine Cable Systems
Funding Requirements (CAPEX and OPEX)
Stakeholders' Management (Financers, Strategic and Landing Partners)
Ownership Models with Pros and Cons (Private Cables, Consortium Cable and PPP)
MAU/MIU Calculation, Costing and Utilization for Consortium Cables
IRU-Indefeasible Right to Use and Contractual Status
Submarine Cable Network
Unique Differences of Submarine Network from Terrestrial Networks
Components of SMC Networks (Dry Plant and Wet Plant)
Dry Plant (SLTE, PFE, C-OTDR, Supervisory Equipment and Cable Termination)
Wet Plant (SM Cable, Repeater, Branching Unit, Gain Equalizer)
Joints (UJ, UC, UQJ)
Transoceanic and Coastal Networks
Repeatered and Repeaterless System
Network Architecture (P2P, Festoon, Ring, Trunk and Branch, OADM, Hybrid)
Cable Landing Station (Site Selection, Space and Construction Standards)
Beach Manhole
Connecting Terrestrial Network to SMC Network (PoP2PoP Connectivity, Traditional Model, Flexible Models, Open SLTE, Open CLS, Open Cable)
Power Feeding Plan to Power Wet Plant
Fault Detection, OTDR/COTDR, Electroding for Cable Search and Cable Repair Process
Selection of Fiber for SMC (LEAF, VASCADE, etc.)
Selection of Appropriate SM Cable (No. of Fibers, Water Depth and Pressure, Location, Weather and Environment)
Power Budget and Repeater Placement Distance (80 Km to 40 Km)
Dispersion Compensation and OSNR
Marine Activity
Sea Laws Governing to Territorial Sea, EEZ and High Sea for SMC
Marine Maintenance Zones
Laying of SMC (Laying Ship, Sea Plow, ROV, Grapnels)
UN Convention on the Law of the Sea
Clauses of the Law related to Submarine Cables
A to Z of Submarine Cable Project
Phase 1 – Planning
Investment Business Model
Market Demand
Risk Analysis
Ownership Model
Partnerships
Network Configuration
Financial Plans
Project Timelines
Phase 2 – Developing
Construction and Maintenance Agreements
Landing Party Agreements
Competitive Procurement
RFQ Development
Bid Receipt
Adjudication
Selection and Award
Desk Top Study
Permitting
Final Route Selection
Cable and Equipment Selection
Procurement
Responsibility Matrix
Phase 3 – Construction
Installation
Payments
Stakeholders Consultation
Wet Maintenance Agreements
Combating Delays and Risks
Cable Laying and Termination
Submarine Cable Systems and Products
SDH
WDM/CWDM/DWDM
OTN
Carrier Ethernet
IPLC (full circuit, Half Circuit)
IEPLC
DWA (Direct Wavelength Access)
IP Transit
Peering
IRU product and viability
SLA and QoS (Loss and Delays Measurement)
Case Study: Deployment of Subsea Cable in a Pacific Island
Project Description
Implementation Plans
Project Management Arrangements
Costs and Financing
Financial Management
Procurement and Consulting Services
Safeguards
Performance Monitoring, Evaluation, Reporting, and Communication
Closing
Case Study: Submarine Cable Management
Open Submarine Cables
Turnkey Supply
Turnkey Supply – Dry and Wet Plants
Disaggregation between SLTE and the Wet Plant
Open Systems vs Total Systems
Open Cable Management Interfaces
Implementation Examples
Public Private Partnerships (PPP) for Submarine Cables
 Privatization
Funding
Special Purpose Vehicle (SPV)
Financial Partners
P3 Justifications
Project Costs
Accountability and Transparency
Role of P3 in Submarine Cables
Examples and Case Studies
Delivery Models (O&M, BOT, BOOT, BLT, etc.)
Submarine Cable Monitoring Systems based on ITU G.979
Characteristics
Maintenance Controller
Supervisory System
Active Monitoring Equipment
Passive Monitoring Equipment
General Architecture
Fault Location
Parameters for Active and Passive Monitoring
Certification: At the end of the course, participants will sit through a proctored, written examination. The TC-SCSE professional certificate will only be issued upon:
Scoring 75% or higher in the written exam AND

Achieving at least 75% attendance for the course.
A background in a telco business and knowledge on optical networks would be beneficial
Prior attendance in 'Submarine Cable Systems with IPLC and IP Transit Services'
What is so special about Telefocal's Submarine Cable Systems Certification programme?
With years of experience in the field, Telefocal is a leader in providing training and development solutions to organizations and IT/Telecom professionals worldwide. Our team of highly qualified and experienced trainers who are experts in the field of Submarine Cable System deliver highly effective interactive, and practical training, with a focus on real-world scenarios and case studies.
Our course materials are developed based on years of practical design and implementation experiences by our Submarine Cable Systems experts, and updated in tandem with new Submarine Cable Systems technology and business developments.
"The training helped me to understand the submarine cable system which is essential for my line of work."
"I liked the in-depth explanation of the submarine cable system."
Be the first to add a review.
Please,
login
to leave a review