MEF SD-WAN Certified Professional (MEF-SDCP)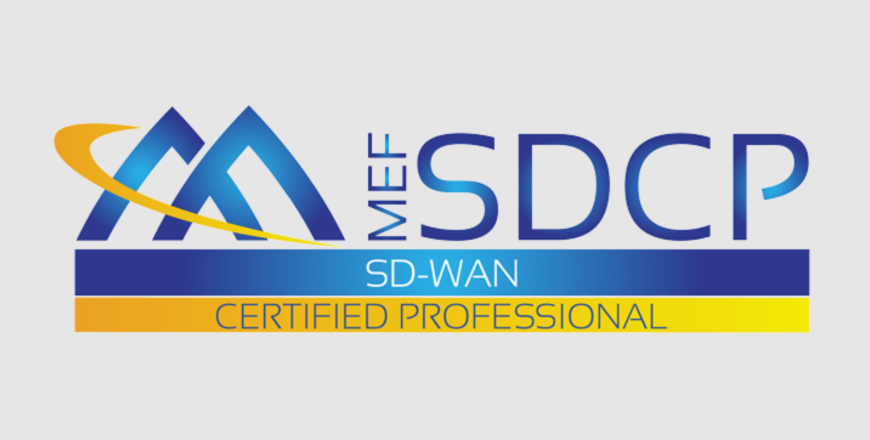 The SD-WAN market is one of the hottest in the communications industry, with tens of billions of dollars in revenue at stake in the next 5 years. IDC estimates that the global SD-WAN infrastructure market (excluding managed services) will reach USD 5.3 billion by 2023 due to strong enterprise demand and the embrace of SD-WAN by leading service providers seeking to provide enterprises with dynamic management of hybrid WAN connections with guaranteed Quality of Service on a per-application basis. The US managed SD-WAN services market alone is projected to reach USD 4.5 billion by 2023, according to Vertical Systems Group.
The comprehensive SD-WAN training by Telefocal Asia is an excellent career enabler for SD-WAN service providers, integrators, network consultants, technology solution providers, and more. Telefocal helps equip candidates sitting for the MEF-SDCP examination with the necessary knowledge and skills required in the implementation and operation of SD-WAN solutions in multi-vendor environments. Successful candidates who have passed the exam will be certified as an MEF SD-WAN Certified Professional and recognized in the MEF Certified Professional Registry. 
Network Engineers/Operation Engineers
System Engineers (eg. Application Engineers)
Network Engineer Managers
Network Consulting Engineers
Product Developers
Enterprise Solution Designers
Sales Engineers
Network Architects
Product Support and IT Directors
Instructor-led Training
Classroom: 3 days
LIVE Virtual*: 21 hours
*Note:
A minimum of 6 or more participants are required to commence a company-based LIVE Virtual course
LIVE Virtual courses can be conducted for 5 hours or 7 hours daily. Please note that the number of training days will be extended if you opt for 5 hours daily.
27 – 29 May 2024 (Mon – Wed), GMT +08:00
If you are keen on attending this course, please register your interest via course enquiry form.
At the end of this course, participants will learn:
How to design and build enterprise sites
Reasons for SD-WAN
Building blocks for SD-WAN
Benefits of SD-WAN to end-users and enterprises
Building blocks for SD-WAN
Transport-independence of the underlay network
Service assurance of SD-WAN connections
High availability of SD-WAN services
How to apply policy-based packet forwarding for SD-WAN
The key specifications and standards for SD-WAN
SD-WAN deployment scenarios
SD-WAN Concepts, Business Benefits and Value Proposition
Compare and contrast infrastructure and operational benefits of SD-WAN with legacy solutions
Given a scenario, recommend and justify an SD-WAN strategy based on customer requirements
Given a scenario, recommend a migration strategy from existing infrastructure to an SD-WAN service
Demonstrate knowledge of the SD-WAN terminology, concepts, and Service Attributes
Planning, Design, and Architecture
Given a scenario, define the correct Application Flow Specifications needed to meet the Business Requirement
Given a scenario, design the Policies needed to meet the Business Requirement
Given a scenario, design the architecture of an SD-WAN Service that meets the Business Requirement
Select the appropriate Underlay Connectivity Service for an SD-WAN network based on the types and characteristics of available options
Given a scenario, partition the subscriber's IP hosts in Zones and assign Zone-wide Policies based on Business Requirements
Design the appropriate Virtual Topology to meet a particular application scenario
Based on Business Requirements, determine the appropriate use of Internet Breakout
Deploy, Optimize, Maintain
Given a scenario, validate the correct definition and assignment of Policies to Application Flows
Given a scenario, tune SD-WAN Service Attributes and/or UCS selection to address service problems
Based on application requirements, determine the appropriate Performance Metrics and values for Application Flows
Identify service improvements to increase availability for a specific Application Flow
Demonstrate knowledge of IP Addressing and IP Routing
Securing an SD-WAN Service
Understand the situations in which a Middle Box Function is necessary
Given a security threat, select the appropriate security functions to mitigate the threat
Understand how to use allow and block lists for a particular security function
Given a scenario, determine whether an Application Flow's security requirements are met
Monitoring an SD-WAN Service
Given a scenario, troubleshoot issues with an SD-WAN Service
Understand the Service Readiness requirements for an SD-WAN Service
Given a scenario, determine how to monitor the performance metrics for an SD-WAN service
Understand the use of Threshold Crossing Alerts for an SD-WAN service
Understanding of basic networking concepts such as switching, routing, and security
General knowledge of basic IP routing protocols such as BGP and OSPF
General knowledge of networking technologies such as Internet, MPLS, ethernet, and mobile
General knowledge in the design, deployment, and troubleshooting of wide area networks
At the end of the course, candidates will sit through a proctored MEF-SDCP examination.
The examination will be conducted in English.
Candidates will need to complete 50 MCQs within 90 minutes.
The MEF-CECP certificate will only be issued upon scoring 65% or higher in the exam, and will be valid for 3 years from the date of issue.
Learning domains (topics) covered:

SD-WAN Concepts, Business Benefits and Value Proposition
Planning, Design, and Architecture
Deploy, Optimize, Maintain
Securing an SD-WAN Service
Monitoring an SD-WAN Service

Re-certification should be taken within 3 years of certification, prior to certificate expiration.
Why choose Telefocal Asia for MEF-SDCP training and certification?
Below are some of the reasons why customers worldwide choose Telefocal for MEF-SDCP training and certification:
We conduct pre-training assessment of participants before course commencement with a goal to bridge knowledge gaps and meet training expectations.
Our trainers have many years of practical design and deployment experiences with telco operators and vendors alike.
Our trainers are engaging with excellent presentation and delivery skills.
Our MEF-SDCP training manuals are officially audited by the MEF and professionally prepared, printed and bound.
Last but not least, our trainers are MEF-SDCP certified.
Be the first to add a review.
Please,
login
to leave a review